TWHBEA Announces 2023 Hall of Fame and Master Breeder Honorees
The Tennessee Walking Horse Breeders' and Exhibitors' Association (TWHBEA) has announced this year's recipients of its two most prestigious awards. A total of eight horses will be inducted into this year's class of the Hall of Fame and two individuals will be recognized as Master Breeders. To be inducted into the TWHBEA Hall of Fame, horses must qualify in at least one of three categories: Breeding, Show Ring Accomplishment and Ambassadorship of the breed. The TWHBEA Master Breeder Award recognizes those breeders whose body of work over an extended period of time has had a significant and long-lasting impact on the Tennessee Walking Horse breed. Each year's honorees are voted on by the standing Executive Committee, past TWHBEA Presidents, past Master Breeders and two TWHBEA members-at-large. This year's honorees will be recognized at the TWHBEA Awards Banquet on Friday, December 1, 2023 at the TWHBEA Auditorium in Lewisburg, Tennessee.
My Faith (631314)
Foaled on May 13, 1963, My Faith is by Sun-Dust and out of Pucketts Dream Girl. The mare was bred by Edward C. Puckett and gave birth to her final foal in 1988 at the age of 25. Libby Christmas was the last recorded owner of My Faith. With a total of a dozen offspring, some of the most notable are Pride's Winning Edge, Pride's Nite Wind, Prides June P., Final's Extra Edition, Cindy Pride P., and Final's Rose. Cumulatively these offspring have earned 34 World Championship and 32 Reserve World Championship titles, 8 World Grand Championship and 6 Reserve World Grand Championship titles, 6 National Futurity Championships, and 6 National Futurity Reserve Championships. Some of the mare's progeny that are current show ring stars include The Megalodon, Country As Cornbread, and She's Pushin' In Line.
Prides Donna (780939)
Bred by Harlin Hayes, this black Hall of Fame mare is by Pride of Midnight H.F. HOF and out of Sun's Pretty Donna and was foaled on April 10, 1978. She's said to be Harlinsdale's favorite mare. She was dam of seven foals – five by Prides Gold Coin HOF and two by his full brother, Pride's Genius.  She was dam of WGC Coin's Hard Cash, Gold Power, Coin's Triple Play, I'm More Than Enough, Polished Apple, Mega Bucks and Motion Picture.
Rock-A-By Lady H. (650177)
Rock-A-By Lady H. was a black mare foaled on April 14, 1963. Sired by Midnight-Rock A Way and out of Go Boy's Southern Gal, the mare was bred by Homer Burnett of Lexington, Missouri. The talented mare was purchased by Anne Daugette Renfrow after the Celebration during her four-year-old season. After a loss during their first outing at the Southern Championships in Montgomery, Alabama in November of 1967, the team went on to be undefeated for the remainder of their show career, winning at major shows across the United States. When all was said and done, she had won nine Celebration championships and was undefeated at five consecutive Celebrations during her show career with Anne Daugette Renfrow. Rock-A-By Lady H. died in 1971.
Snip's Chance (460427)
Snip's Chance, by Last Chance and out of Snip, was foaled on February 15, 1940 and was the dam of the famed "four sisters" – four mares that literally helped shape the Tennessee Walking Horse breed.  Among these were Wilson Snip's Chance, the dam of Sun's Delight, Johnny Midnight, Sun's Hero and Midnight Imp, plus the outstanding broodmares Sun's Sparkle and Mack K's Sweetheart; Wilson Chance, the dam of Dean's Boss Man and Delight's Chance; and Wilson Chance Snip, the dam of Midnight Ike.  Snip's Chance was a daughter of the great mare Snip, who was sired by Grey Lad and out of Merry Legs F-4. The female family has produced such greats as Merry Boy, Hunter's Allen F-10, Last Chance, Bud Allen, Major Allen and many others. Snip's Chance was bred by A.M. Dement of Wartrace, Tennessee and sold to A.S. Dean as a weanling, who continued to own her throughout her illustrious breeding career.
Hall of Fame Stallions & Geldings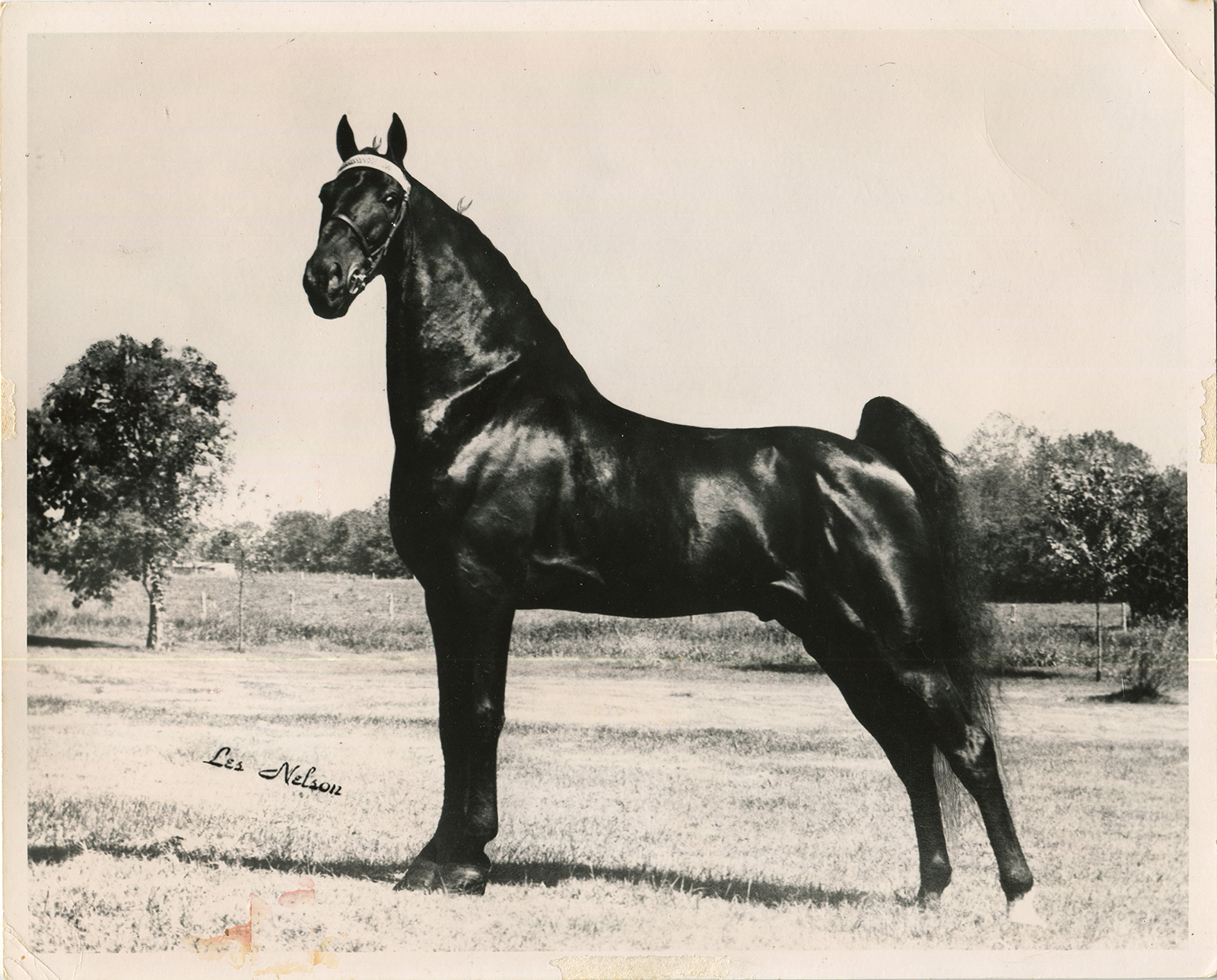 Ebony's Senator (641156)
Born on January 23, 1964, the black stallion was from the first crop of foals produced by the 1962 World Grand Champion Ebony Masterpiece. He was out of Go Boy's Merry Maid.  He was bred by S. W. Beech, Jr., later owned by Vic Thompson, O.D. Carlton, The Senator Limited, Ebony's Senator Partnership, Charles D., Cooper, & Owen Miles, and finally Gamble Farms- Jeff & Sharon Gamble. Shown by Marvin Wilson, one of the trainers at Vic Thompson Stables, Ebony's Senator was reserve in the Junior Stallion class at the 1968 Celebration. He returned in 1969 to claim the World Grand Championship title on an unforgettable night of mud, water, driving rain, loud thunder, and starling lighting. He was retired from competition under saddle at the 1969 Dixie Jubilee Horse Show in Baton Rouge, Louisiana.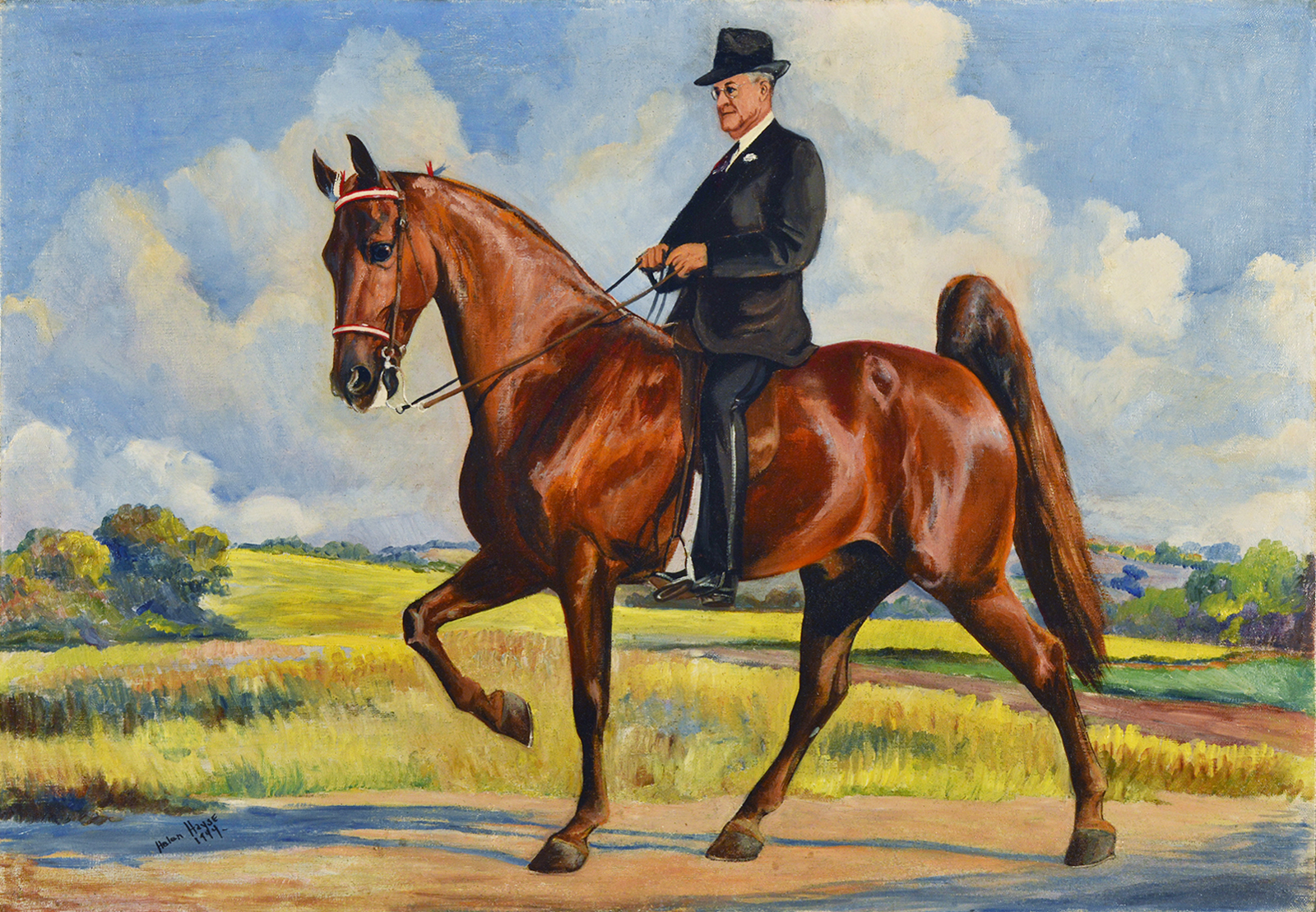 Haynes Peacock (401185)
The 1940 and 1941 World Grand Champion was a 1928 Chestnut gelding by Wilson's Allen HOF and out of Nell Monette.  Many horsemen have said that Haynes Peacock had more show horse ways and more bloom than any horse they had ever seen regardless of his age.  He had a way of strutting that caused possibly more favorable comments than most horses of his day. Haynes Peacock and his loving owner/rider, Colonel J.L. Haynes, became the first two-time World Grand Champion. Haynes Peacock was a popular champion and he and Colonel Haynes helped establish the Tennessee Walking Horse as the fastest growing show horse exhibited in America.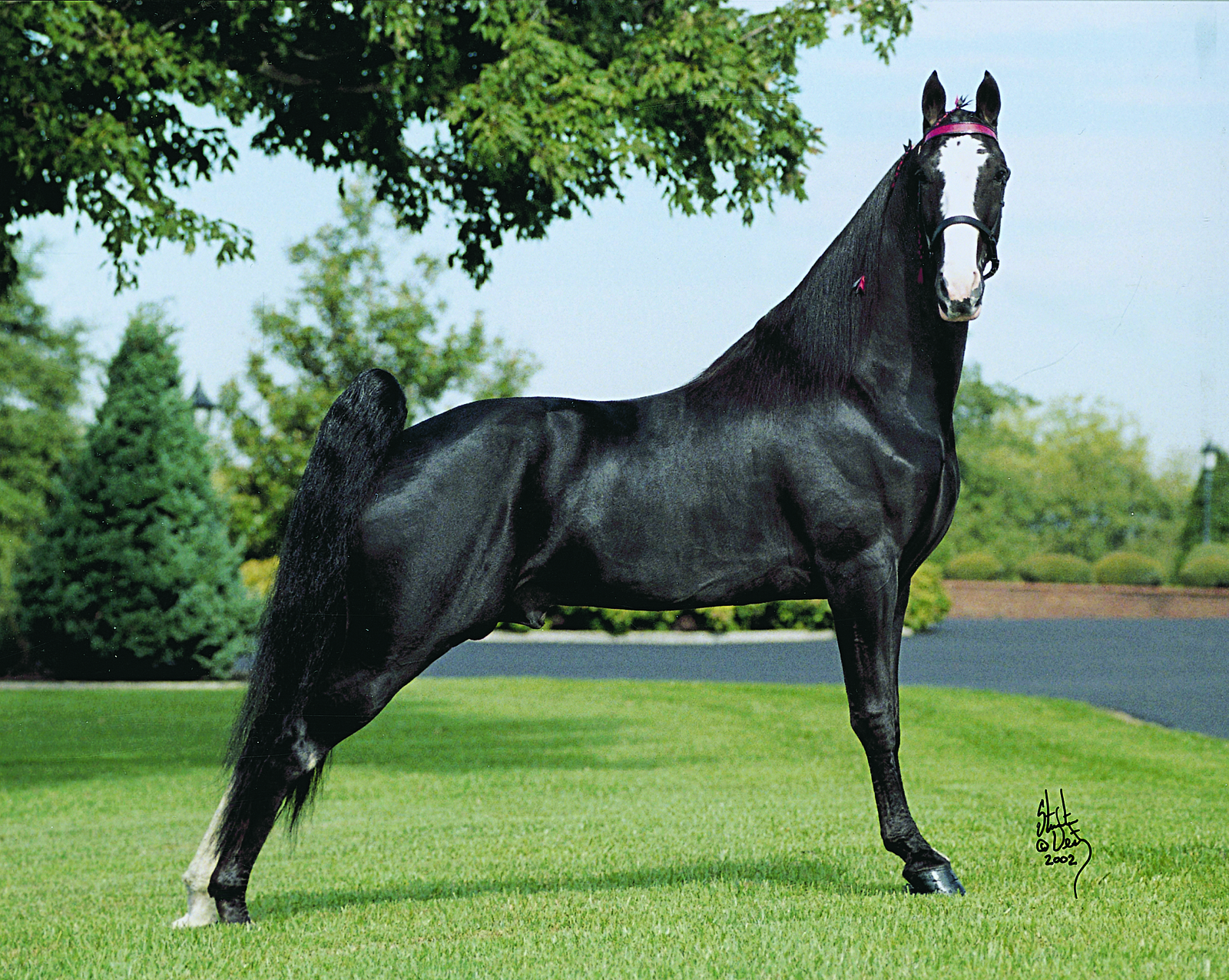 Out On Parole (970569)
Out On Parole was a black roan stallion sired by Pusher's Doing Time and out of the mare Pride's Golden Doll.  He was foaled on March 25, 1997 and bred by Judy Moore of Shelbyville, Tennessee.  He was sold to Bob Kilgore as a yearling, then sold to Pete Hammond, who sold him to Randall and Sadie Baskin. The Baskins owned him from his two-year-old year until his death.  Out On Parole was trained by Bud Dunn and Son Stables of Florence, Alabama. Bud Dunn trained Out On Parole to canter, but as he was working with RPM, his second World Grand Champion at the time, his son Steve Dunn was Out On Parole's primary trainer.  Steve Dunn rode Out On Parole in the 1999 Tennessee Walking Horse National Celebration and won the Two-Year-Old World Championship.  The following year he won the Three-Year-Old preliminary class but came in reserve in the World Championship. As a four-year-old, he won both his preliminary class and the Junior World Grand Championship title at the Celebration.  The next year he won Division A of the Stallions Class, the traditional first test of horses entering the World Grand Championship and was one of 11 horses entered in the World Grand Championship.  Bud Dunn died in early 2001, and for the big stake Steve Dunn wore the tie his father had worn during both of his World Grand Championship wins.  Out On Parole was named the World Grand Champion for 2002.  Following the win, he was exhibited at many horse shows and once performed at the University of Tennessee homecoming football game.  He was officially retired at the Celebration in 2013, although he continued to be a popular breeding stallion.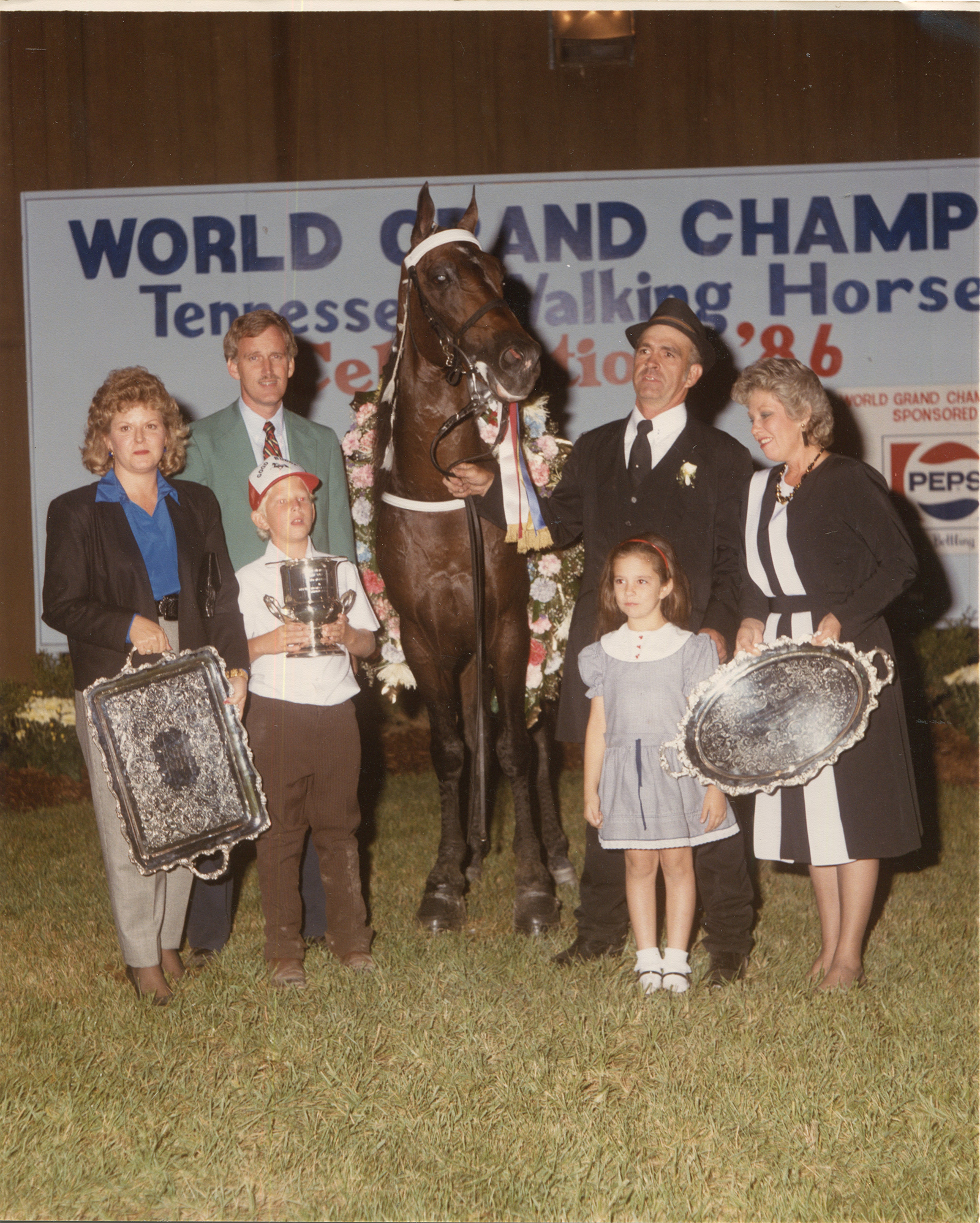 Pride's Jubilee Star (764596)
Born in 1976, the Bay Stallion was by Pride of Midnight H.F. and out of Sun's Star O. Bred by John N. Ross, he was purchased by Ted and Jane Armour as a yearling.  He was later owned by Buris R. Bushell and purchased in 1984 by Bob Parks of Murfreesboro, Tennessee.  Many trainers had a hand in the making of this horse – Dude Crowder, Bill Bobo, Buddy Kirby, Phillip Wilson, Bill Sledge, David Landrum, Ricky Womack, and ultimately Ramsey Bullington.  Shown sparingly, but successfully, the horse known as PJ, garnered the roses for the World Grand Championship in 1986 with Bullington in the irons at 10 years old, and convincingly defeating a ring of younger challengers.  Prides Jubilee Star produced 751 offspring, among them WGC Pride's Jubilee Encore and WGC Pride's Sundance Star.  He is great-grandsire of 2018 WGC Gen A'Mighty. His daughters have produced winners from 170 stallions.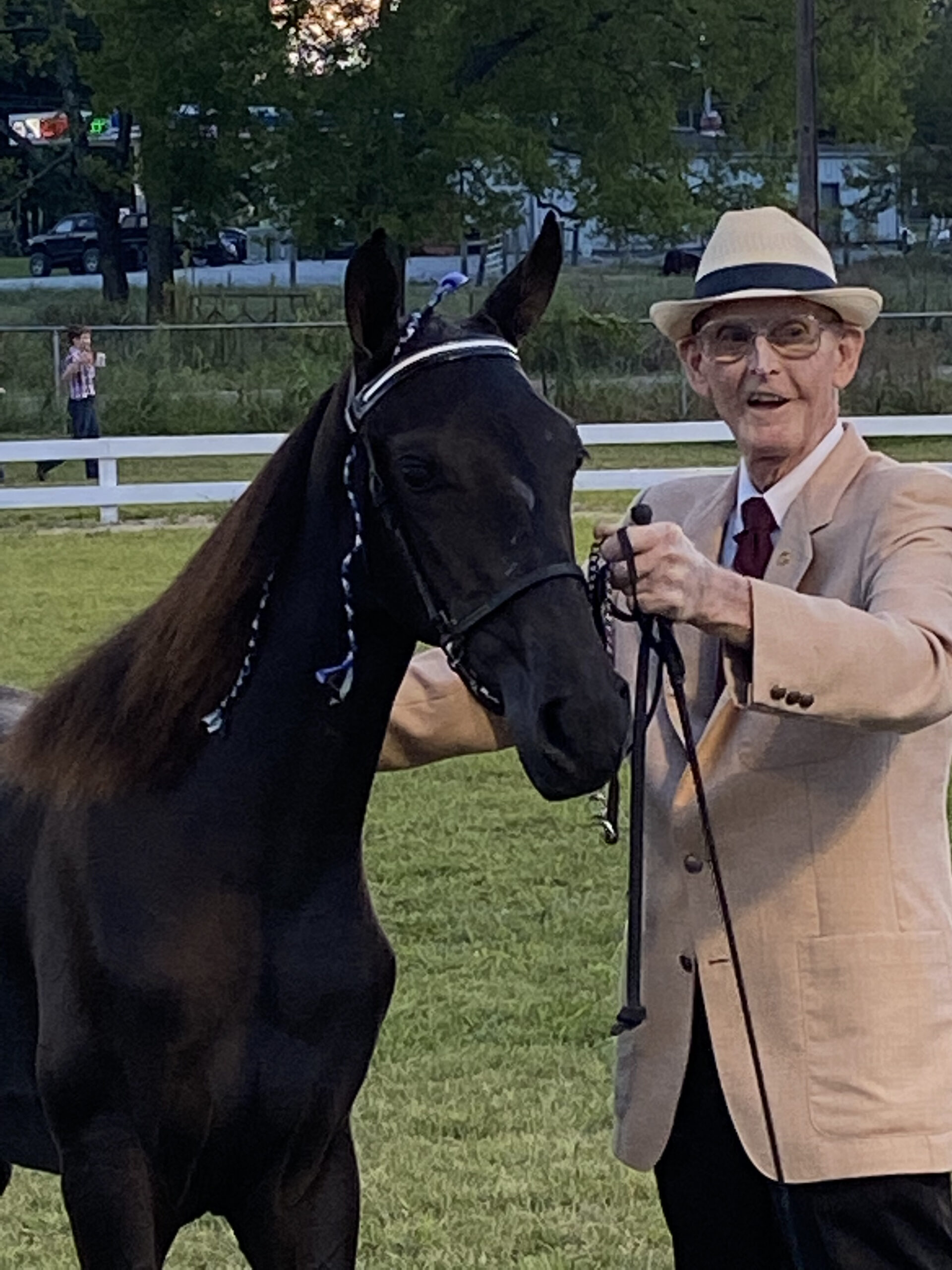 Valton Rummage
When asked for the highlights of his career, a twinkle comes to his eyes as he relates the adrenaline rush of walking around the big oval under the spotlight. But, in the same breath, the pride of watching his children and grandchildren show the horse of his dreams was right up there with those "highlight" moments. Those moments and his involvement in the breeding, raising, and showing Tennessee Walking Horses spans over 50 years. Valton Rummage began breeding mares, raising foals, and showing colts in the late sixties and early seventies. His first registered mare, Threat's Early Dawn, was purchased in 1969, and his life-long love of the Tennessee Walking horse began. In 1974, the family filling station (as it was called back then) was sold and he switched his career to full time breeding, raising, training and showing colts. He never looked back. His tenure as a breeder, owner and exhibitor has spanned seven decades. In what has now become laughable, he has been telling friends and family for over a decade that he's retiring "next year". He is known for his integrity and honesty in buying and selling horses and, likewise, for his vast knowledge of good brood stock, and for his discerning eye in picking out great prospects.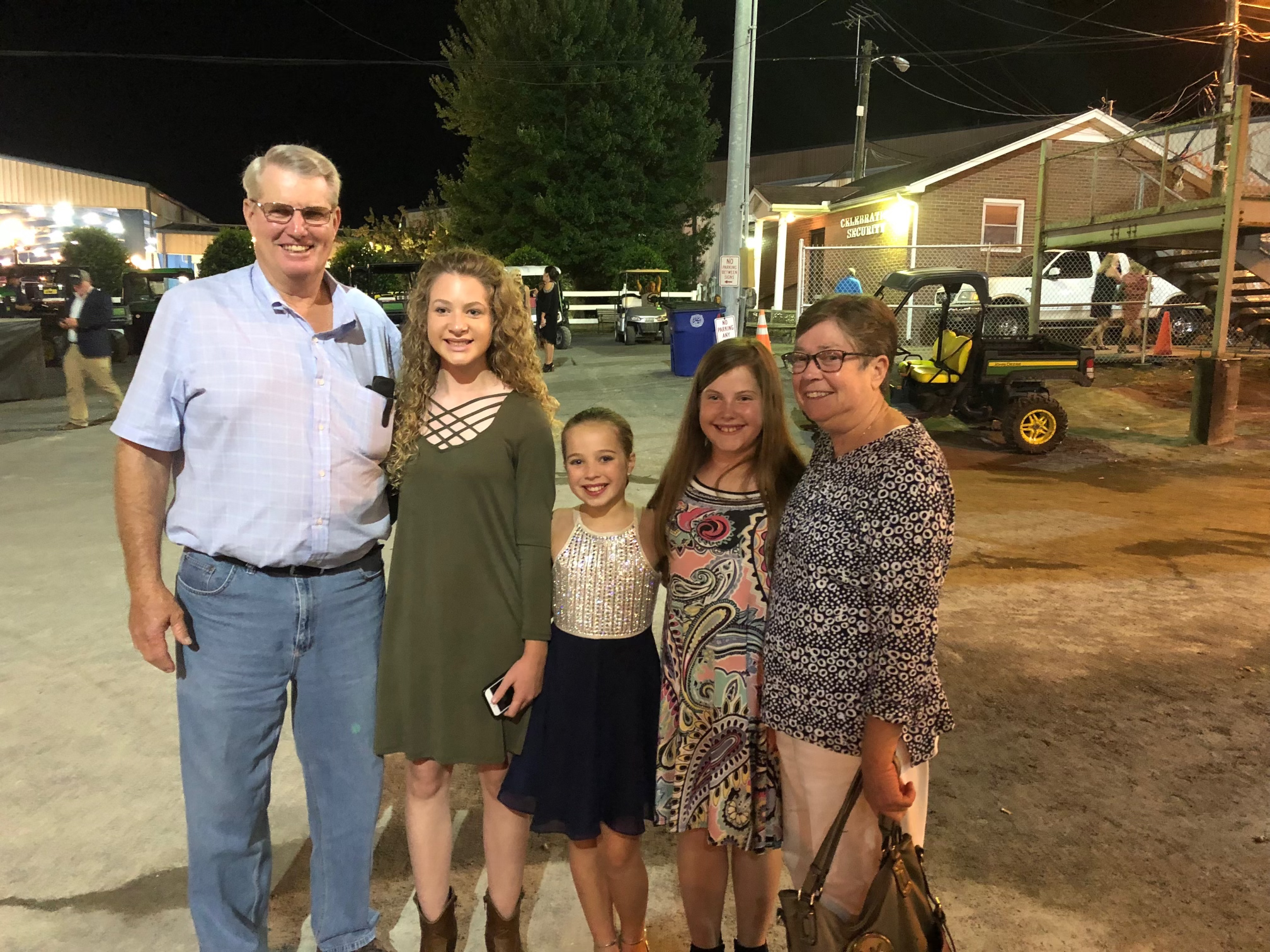 Buddy Wilhelm (posthumous)
Raymond Huey "Buddy" Wilhelm, Jr. was a lifelong farmer, raised on his family's farm in the Belfast community where he loved hard work, Tennessee Walking Horses, raising beef cattle, working hay, and spending time with family. He was well known for producing World Champions and even better known for providing the expert foaling and breeding services to many that raise Tennessee Walking Horses. Buddy passed away in 2021 at the age of 70.