In the truly epic fashion that horse people understand, an across-the-board effort of the horse community is coming together to support one of our families in need. Through the combined efforts of the SSHBEA, TWHBEA, WHOA, PWHAT, NWHA, NSSHA, WHTA, WHT Auxiliary and SSHBEA Auxiliary, the horse industry is gathering and supporting the Dickie Gardner Family with Cowgirl Up For Misti.
Misti was diagnosed with COVID 19 on December 27, 2021, and was admitted to Maury Regional Hospital in Columbia, Tennessee, on December 29 where she stayed for five weeks. She had blood clots in her lungs and suffered and continues to suffer severe complications from the COVID virus entering her brain. Treatment will be a long process, and the timeline for recovery is unclear. She will continue to have many doctor visits for the foreseeable future to further her recovery.
The family owned and operated Dickie Gardner Stables has been a leader in all aspects of the industry for many years. The family, along with customers, log hundreds of miles each year to compete and support all factions of both the Spotted Saddle Horse and Tennessee Walking Horse business.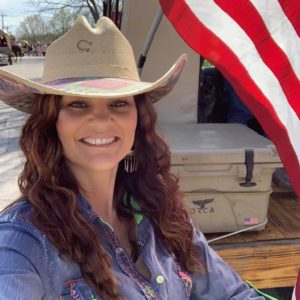 The kickoff event for the Cowgirl Up For Misti Benefit will be held on Friday, March 25, 2022, at the TWHBEA Auditorium in Lewisburg, Tennessee at 6:00 p.m. Happy Hour with cash bar will be followed by a delicious meal served by The Rowdy Ranch Catering gang. A live benefit auction, along with 50/50 raffle will round out an evening of great fellowship.
Event tickets are $25 each and may be purchased online or by contacting Beth Thomas (931/580-6825), Peggy Moore (931/703-5757), or Dee Dee Miller (931/580-6647).
More information on ways you can help Misti, Dickie, Dakoda, and Cheyanne can be found at CowgirlUpForMisti.com and on FaceBook at Cowgirl Up For Misti. Also stay tuned for additional events throughout the summer to help support the Gardner Family.